Foul weather leads to record brown trout
Mike Norris Outdoors - April 7, 2006

When fishing buddies Glen Duesing and Jim Reznick helped Joe Wallace launch his new 18-foot Alumacraft out of southern Lake Michigan 's Calumet Yacht Club a week ago, the threesome measured the blowing wind, potential rain and 3-foot waves and decided their target fishing spot was out of the question.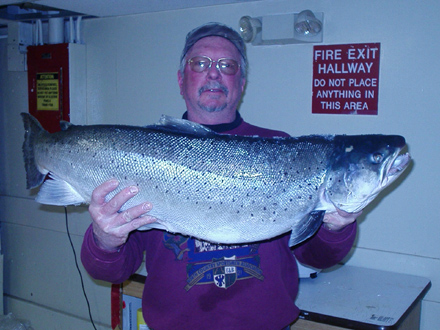 Glen Duesing with hi new Indiana record brown trout
Wallace, of Hammond , Ind. , decided it would be best to stay close to the launch and western shore of Lake Michigan , where waves would not be as treacherous and safe harbor was only minutes away. Just to there north was State Line Station, a fossil-fuel power plant that regularly discharges warm water into Lake Michigan .
"We wanted to go out farther, but we decided to stay in closer because of the wind," said Duesing, who lives in Dyer, Ind. "As it turned out, the power plant was pumping 65-degree water out of the discharge, and on our electronics we could see large arches mixed right in with the shad congregating around the hot-water plume."
Trolling north past the power plant, the threesome set down rigger lines with black-, brown- and gold-colored Smithwick Rogues around 30 feet back.
"We do real well on that lure on cloudy days," Duesing said. "It is like the old saying goes, 'Dark lures on dark days.'"
About 50 feet off the north corner of the power plant, a line tripped and Duesing grabbed the rod. He could tell right away it was a good-sized fish.
"As I was reeling the fish in, it jumped out of the water about 10 feet from the boat," Duesing said. "We all knew it was a good fish then."
Reznick, a Calumet City resident who the other two affectionately call the "rock rat" because of his penchant for shore fishing, grabbed the net and tucked it under the fish as Duesing reeled it close to the boat. As Reznick lifted the net, it broke where the handle meets the rim.
"The net's hoop was 22 inches in diameter, and the fish was hanging out of the net," Duesing said. "Both Reznick and I grabbed the rim and started lifting the fish into the boat. The only thing that saved me from losing the fish was a treble hook from the lure that was caught in the net's webbing."
Once boated and freed from the net, the huge brown trout buried Duesing's 15-pound hand scale.
After icing the fish in a cooler, the threesome continued to fish. An hour-and-a-half later, heavy rains started to fall and they called it quits. With the boat on trailer, their first stop was Mik-Lurch Fishing Tackle Outlet in Hammond , Ind. , where the fish weighed in at more than 29 pounds, 2 ounces on a flat uncertified scale.
The Indiana state record brown trout of 25.08 pounds was about to be broken.
A visit to a certified scale at a nearby grocery store provided the official weight for Duesing's record brown trout at 29.3 pounds.
"Last Tuesday, I brought the fish to an Indiana fishery biologist to confirm it was a brown trout and submit my entry forms," Duesing said.
The biologist took note of the fin clip and determined the fish was first planted in the Root River in downtown Milwaukee , Wis. , in 1993.
Thank God the fish swam south. If the fish had been caught in either Illinois or Wisconsin , it would have just been a nice fish. The Wisconsin state record brown trout stands at 35 pounds, 1.9 ounces, while the Illinois record stands at 36 pounds, 11.5 ounces.
Outdoors notes

Bass pro Preston Clark shattered the B.A.S.S. four-day weigh record by more than 7 pounds to capture the Bassmaster Elite Series Santee Cooper Showdown on Santee Cooper Reservoir more than a week ago. He relied on 20-pound clear Berkley Big Game to land every bass in his record-setting bag. Clark led wire-to-wire for an amazing 115-15 total, which obliterated the previous B.A.S.S. four-day weight record (108-12) set by Dean Rojas in 2001.
• Lake Geneva Fishing Club will host a seminar by yours truly Wednesday at 6:30 p.m. at Dick's Sporting Goods in Schaumburg . I will be talking about fishing for both large and smallmouth bass at Lake Geneva .
There is a $5 charge for non-members, which can be deducted from the dues if you join the club. For more info, call (847) 524-8623.

Outdoors with Mike Norris is heard every Thursday from 3-4 p.m. on WBIG (AM-1280). For more information on his fish guiding service, Mike Norris can be reached at wallimike@aol.com